How to use laser dark self weeding transfer paper well?
With the demand for personalized customization, more and more garment factories use the thermal transfer process to produce garments.
There is a large demand for dark T-shirts on the market, which has led to the purchase of a large number of dark transfer papers. However, dark transfer paper requires a pattern to be cut, which makes the production cycle longer. Today, more and more people are starting to use dark hollow transfer paper.
This transfer paper can not only cut without cutting, but also transfer fine patterns such as eyelashes.
So how do you use dark hollow transfer paper very well?
1. To select the correct laser printer, it is recommended to use an OKI WT series printer such as OKI WT C711.

2. Dark hollow paper is divided into A paper and B paper. The surface of the B paper has a white film, and the size of the B paper is slightly smaller than that of the A paper, which facilitates the peeling of the B paper from the surface of the A paper.
3. Use the correct transfer time, temperature, and pressure. The transfer time is 90 seconds, the transfer temperature is 160 degrees Celsius, and the pressure is heavy.
The transfer machine was adjusted to 160 ° C, 90 seconds, heavy pressure, hot tear. After lifting the machine handle, wait for 5 seconds to slowly remove the B paper and throw it away, leaving the A paper.
The hollow A paper image is transferred to the fabric: adjust the ironing time to 10-15 seconds, the temperature and pressure are unchanged; spread the cloth or clothes on the ironing board, transfer the A paper pattern face down (at this time you see Go to A paper back paper); use 160 ° C (155 ° C -165 ° C), 10-15 seconds, warm cold tear, tear off A paper to complete the transfer, after printing, cover the release paper and press for 3-5 seconds , enhance the firmness.
Note that when B paper is transferred to A paper, if there is excess glue marks on the edge of the A paper after transfer, the glue marks are cut off and then transferred.

4. Washing and maintenance: Wash after 24 hours of printing, wash by hand. Do not dry and soak for a long time while washing. Do
directly apply patterns and use bleach.
---
We are heat transfer vinyl manufacturer in China. And we invite you to our next year exhibition
Next Expo is our Fespa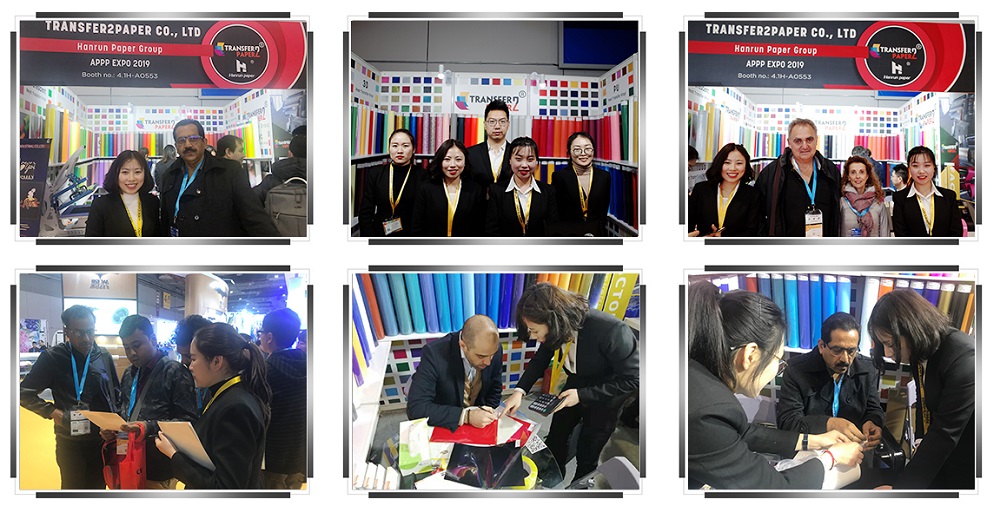 Our king products are Glitter heat transfer vinyl, Reflective heat transfer vinyl, and Flocking heat transfer vinyl.
We have more than 100+ different colors of glitter heat press vinyl, and the color is same as Siser, the quality also same as Siser quality.
And, we also accept Customized colors for you among different heat transfer vinyl types.
We are manufacturer, OEM service available. We are looking for wholesaler for our products.
---
Contact us
TEL:(+86) 17798509603
E-mail:info@transfer2paper.com
Keep yourself posted by following us on social media